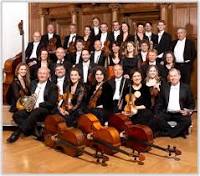 The Academy of St Martin in the Fields, with Tomo Keller, Director, is one of the world's premier chamber orchestras, renowned for its fresh, brilliant interpretations of the world's most-loved classical music.  Formed by Sir Neville Marriner in 1958 from a group of leading London musicians, the Academy gave its first performance in its namesake church in November 1959. Through its live performances and vast recording output – highlights of which include the 1969 best-seller Vivaldi's Four Seasons and the soundtrack to 1985's Oscar-winning film Amadeus – the Academy quickly gained an enviable international reputation for its distinctive, polished and refined sound.
The Academy will feature pianist Inon Barnatan.  Celebrated for his poetic sensibility, probing intellect, and consummate artistry, Israeli pianist Inon Barnatan ("ee-NON BAR-na-tan") currently serves as the first Artist-in-Association of the New York Philharmonic. This unprecedented three-season appointment sees him appear as soloist in subscription concerts, take part in regular chamber performances, and act as ambassador for the orchestra. In 2015-16, he embarks on his second season with the Philharmonic, playing Mozart with Jaap van Zweden, Beethoven under Music Director Alan Gilbert.
Tickets are all open seating except for Prestige:
$50 Prestige tickets (reserved premium seating)
$25 Premium seating (front 2/3 of auditorium)
$20 General seating (back 1/3 of auditorium)
$15 Balcony seating
$5 discount for students for premium, general and balcony seating
Tickets may be purchased on the website with credit card, or by cash or check at the Pro Musica office between the hours of 9:00 a.m. and 1:00 p.m  (please call the office first to be certain someone is there, 417-625-1822).
The appearance of the Academy of St Martin in the Fields is sponsored in part, by the Symphony Guarantors (see sponsor page) and the Missouri Arts Council, a state agency.  The appearance of Inon Barnatan is sponsored, in part by the Vivian Leon Fund for the Musical Arts of the Carthage Community Foundation.
Thursday, March 23, 2017
7:30 p.m.
Taylor Performing Arts Center
Missouri Southern Sate University
Joplin