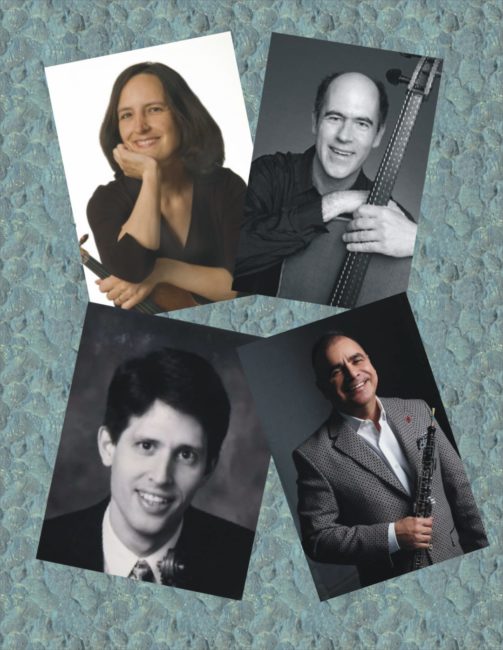 The Adaskin String Trio has won over audiences internationally with exuberant and stirring performances. Their playing has been hailed for "vigor, precision and stylistic certitude" (Charleston Gazette) as well as "spontaneity, intensity and charm" (Peninsula Review) and the Boston Globe praised them for "directing the listener to the heart of the matter." This dynamic ensemble commands a large string trio repertoire ranging from Haydn, Mozart and Beethoven to Dohnanyi, Rozsa, Villa-Lobos, Schnittke, and composers of today including commissioned works by Murray Adaskin, Robert Carl and David Macbride among others. In addition, the trio enjoys collaborations of the highest level with various artists including pianist Sally Pinkas, oboist Thomas Gallant, guitarist Eliot Fisk, bassist Robert Black, and accordion virtuoso Joseph Petric.
The trio's recordings include the complete Beethoven String Trios on Musica Omnia which won critical acclaim in American Record Guide – "Highly desirable…strongly recommended" and Gramophone – "Superb playing… a flexible command of flow and phrase with instrumental power and eloquence and a nutty tonal richness.
Although the Adaskin String Trio is currently based in New England, the members of the trio are all originally from Canada. They met in Montreal where they each studied chamber music with founding Orford Quartet cellist Marcel Saint-Cyr. They later completed two years as ensemble-in-residence at The Hartt School under the guidance of the Emerson Quartet. The trio is named in honor of Murray Adaskin, one of Canada's most loved and respected composers, and two of his brothers, violinist Harry Adaskin and producer and music educator John Adaskin.
Considered by many to be the most difficult of all the musical instruments, the oboe is often called the "ill wind that no one blows good."   Oboist Thomas Gallant is one of the world's few virtuoso solo and chamber music performers on this instrument and he has been praised by The New Yorker magazine as "a player who unites technical mastery with intentness, charm and wit."
Thomas Gallant is a First Prize Winner of the Concert Artists Guild International New York Competition.  His performances have taken him to Avery Fisher Hall, Weill Recital Hall and the Frick Collection in New York City, to Washington, DC, Los Angeles, Chicago, Philadelphia, to the Spoleto Festival in Italy, and to the Mostly Mozart Festival at Lincoln Center.  He has appeared as guest soloist with the Kronos Quartet at the Ravinia Festival and has collaborated with flutist Jean-Pierre Rampal, with Cuarteto Casals, the Colorado, Calder and Lark Quartets, Cuarteto Latinoamericano, Adaskin String Trio and is currently touring with the Kodaly String Quartet.
Thomas Gallant is dedicated to performing neglected and contemporary works for the oboe and has given the New York premieres of works for oboe and strings by Berio and Penderecki as well as the Washington, DC premiere of Elliott Carter's Quartet for oboe and strings. He is a member of the trio Ensemble Schumann and he is the Artistic Director of the chamber music group Frisson.
Thomas Gallant was born into a large working class family to a Portuguese mother and French father outside of Boston.   When he first brought home an oboe from the local band program his family was rather disappointed as they did not know what an oboe was and asked him to "go back to school and return it for an instrument like all the other kids play such as the trumpet or clarinet". After initial successes at a young age he stopped performing for many years and only in recent years has he returned to performing "the ill wind that no one blows good".   Thomas Gallant lives in New York City.
Thursday, November 9, 2017
7:00 PM
First Presbyterian Church
509 S Pearl Avenue
Joplin MO