The HARLEM (string) QUARTET (Illmar Gavilán, violin; Melissa White, violin; Jaime Adador, viola; Felix Umansky, cello) praised for its "panache" by The New York Times, is "bringing a new attit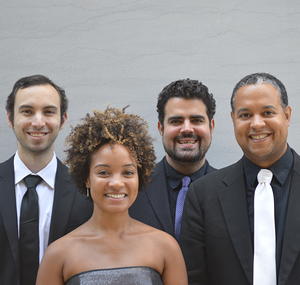 ude to classical music, one that is fresh, bracing and intelligent," says the Cincinnati Enquirer.  Harlem Quartet was founded in 2006 by the Sphinx Organization. The original four members were all first prize laureates of the Sphinx Competition. The Organization wanted to create a group comprised of first place laureates to achieve the overall mission of bringing classical music to inner-city school children.
The quartet's mission is to advance diversity in classical music, engaging young and new audiences through the discovery and presentation of varied repertoire that includes works by minority composers.  Each member of the quartet is a seasoned solo artist, having appeared with such orchestras as the New York Philharmonic, the Boston Pops, and the Atlanta, Baltimore, Cleveland, Detroit, National, Utah, Puerto Rico, Juilliard, New World, and Pittsburgh symphony orchestras. Harlem Quartet's solo work as an ensemble is also a significant part of their career.
As part of the week-long residency in Joplin the Quartet will present eight outreach events, including at local schools, a domestic violence shelter and a corporate sponsor.
The concert is open to the public at no admission charge, donations appreciated.
Financial assistance for this residency with the Harlem Quartet is provided, in part, by the National Endowment for the Arts, and in memory of Elizabeth Meisinger.  Outreach events sponsored, in part, by the Joplin Rotary Club, and the Rusty Smith Memorial Fund.

FRIDAY, Spetember 30, 2016
7:00 p.m.
College Heights Christian Church
4311 E Newman Rd, Joplin